Starting a luxurious playing cards business online can be an exciting and profitable venture. After all, we know that the world of playing cards has evolved beyond traditional designs. In fact, there are modern playing cards with premium, high-quality decks. So, how to start this business easily and successfully? Read this post completely!
Learn How to Make Playing Cards to Sell
When it comes to starting a luxurious playing cards business online, one of the important aspects is creating captivating and high-quality decks. This means that you need to know the process of making playing cards to sell. Additionally, you must ensure your cards stand out in the market.
Well, have a look at the steps below!
Research Popular Card Designs and Trends
Study the market and identify popular card designs and trends. Also, remember that you need a design that resonates with your target audience.
Create Unique and Captivating Designs
Develop visually stunning and unique designs for your playing cards that set them apart. By doing this, you can move further in selling playing cards in the market.
Hire a Professional Graphic Designer
You can consider collaborating with a professional graphic designer. Yet, make sure that he or she will bring your design vision to life.
Choose High-Quality Materials
Always choose premium materials for your cards. For instance, you should choose high-grade cardstock and a durable finish.
Consider Additional Features
To attract more, you can add special features like metallic foiling or embossing. Additionally, you can wrap your cards in custom playing card boxes to enhance the luxurious appeal.
Test and Refine Your Prototype
Next, you must print a prototype deck. This will help you evaluate the overall quality, feel, and appearance of the cards.
Partner Up with a Reputable Printing Company
Once you defined the best design, you can partner up with a reliable printing company. Remember to choose the one that specializes in producing playing cards.
Place a Bulk Order for Production
Once you are satisfied with the prototype, you can place a bulk order for the production of your luxurious playing cards.
Where to Sell Playing Cards Effectively?
Once you have created your playing cards, the next step is to decide the best platforms to sell them and reach your target audience. Well, you can explore various avenues where you can showcase and sell your exquisite decks online. So, get ready to discover the ideal outlets for showcasing and selling playing cards in the digital realm!
Create Your Own Online Store
You can try creating a dedicated website or e-commerce platform. Through this platform, you can easily showcase and sell your playing cards.
Use Online Marketplaces
Without you realizing it, there is an increasing card game print on demand out there. So, you can leverage popular online marketplaces like Amazon, eBay, and Etsy. These online marketplaces will help you reach a broader customer base.
Social Media Platforms
Another way is to harness the power of social media platforms. Yes, you can consider using Instagram and Facebook. These platforms are perfectly ideal to promote and sell your products.
Collaborate with Influencers
You can also collaborate with influencers in the gaming or luxury niche. With their support, it will be easier to endorse and promote your playing cards.
Target Local Retailers
Try approaching some local game stores or boutique retailers. Well, some may be interested in stocking your trendy playing cards.
How to Follow the Card Game Print On Demand?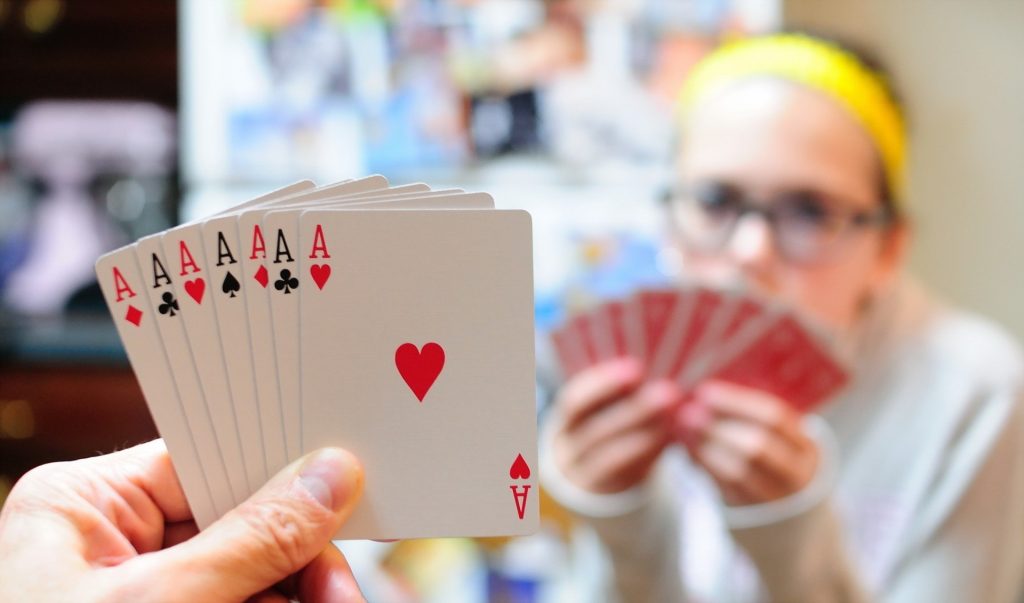 The concept of card game print on demand has revolutionized how designers and entrepreneurs bring their unique game concepts to life. Yes, this is where you can create custom designs for your card games. Even better, you can produce and deliver them directly to customers as they order. From designing captivating games to partnering with reliable print-on-demand service providers, you can unlock endless possibilities.
In other words, you can create and sell your own card games without the need for upfront production costs or inventory management. How to do this?
Understand the Concept
Card game print on demand allows you to create custom designs. Then, you can work with a reliable company to print them printed. Next, you will simply ship the cards directly to your customers.
Choose a Print-on-Demand Service
Research and select a reliable print-on-demand service provider. In this regard, make sure to choose the one that specializes in card game production.
Design Your Game
Create a captivating card game concept. For instance, you can include gameplay mechanics, rules, and a unique theme.
Design the Cards
Develop visually appealing card designs that align with your game's theme and mechanics. Plus, you can make them more appealing in trendy custom playing card boxes.
Upload Your Designs
Use the print-on-demand service's online tools to upload your card designs. Even better, you can also customize other game components.
Set Your Prices
Decide the pricing structure for your playing cards. To do this, you must consider production costs, profit margins, and market demand. Of course, you should not offer your playing cards higher than the standard market prices. On the other hand, you also need to consider the factors such as production and shipping costs.
Promote and Market Your Playing Cards Effectively
Without any doubt, you can use various marketing channels to raise awareness about your card game. There are many platforms you can try out such as social media, gaming forums, and influencer collaborations.
Focus on Fulfillment and Customer Service
Yes, the print-on-demand service will handle the printing, packaging, and shipping of the orders. In the meantime, you must always focus on providing excellent customer service.
Final Notes
Undoubtedly, to start a luxurious playing cards business online, you need careful planning and attention to detail. Of course, you should pay attention in delivering high-quality products as well. By following the steps outlined in this post, it will be easy to create captivating playing cards. Plus, you can find out how to choose the right platforms to sell your playing cards. Better yet, you can even explore the concept of card game print on demand.
In simple words, you can embrace the creativity and opportunities that the online world offers. So, it's time to turn your passion for playing cards into a successful business venture!